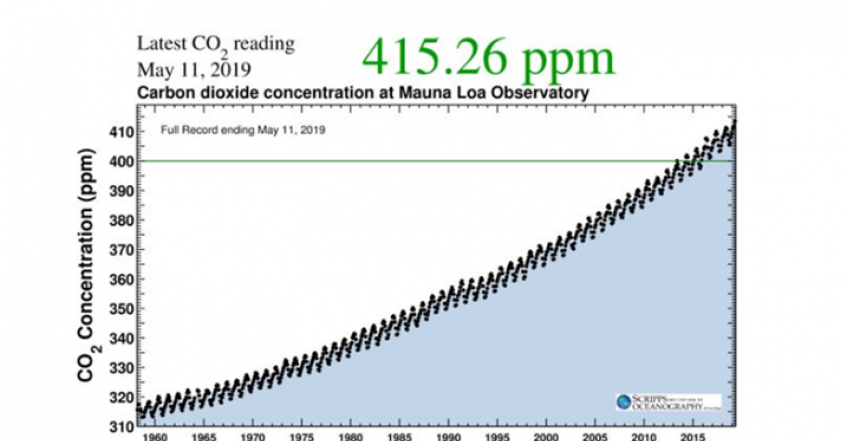 Carbon dioxide hits its highest level in human history
Carbon dioxide concentration recently surpassed 415 parts per million for the first time in recorded history. While this is a concerning statistic, it doesn't provide the full picture of the challenge facing our climate. In Greenland, the ice sheet's melt season began approximately a month early. In Alaska, several rivers saw winter ice break up on their earliest dates on record. Across the Arctic, sea ice cover is approaching record lows. Data from the Japan Meteorological Agency reportedly show that July was the warmest month on record, and eighteen of the nineteen warmest years on record have occurred since the year 2000. The trends continue, and these often record-breaking high temperatures are occurring against the backdrop of ever-increasing concentrations of carbon dioxide.
The recent carbon dioxide measurement of 415 parts per million, taken at Hawaii's Mauna Loa Observatory, is thought to be not just the highest level since records began but the highest in human existence.
Wolfgang Lucht, from the Potsdam Institute for Climate Impact Research said: "It shows that we are not at all on track with protecting the climate. The numbers keep rising each year." This is thought to likely be caused by a combination of the El Niño climate cycle and fossil fuel use, with the latter being critical to controlling this sharp increase.
SCARBO aims to solve the key challenge of monitoring anthropogenic greenhouse gases from space; sites of interest will be monitored more often while meeting the requirements of accuracy and spatial resolution. This will be done using a novel spectrometer on a constellation of small satellites (<500 kg), coupled with aerosol sensors and high-end reference instruments. As this development progresses, updates will be published on the SCARBO website and Twitter account.